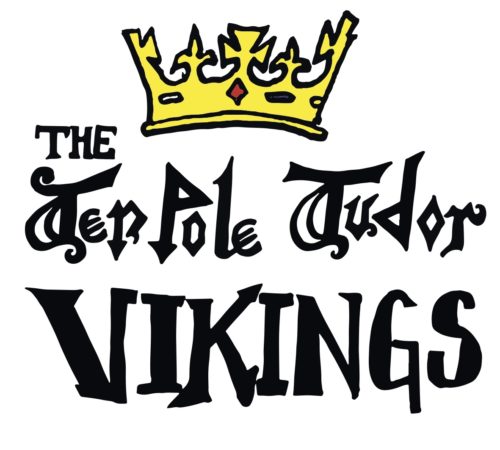 THE TENPOLE TUDOR VIKINGS
Debut album: "3 Bells in a Row"
Ed Tudor Pole (also known as Ten Pole Tudor) first came to our attention when he wrote and sang "Who Killed Bambi" for The Sex Pistols. He went on to have some hits with his band Tenpole Tudor in the 80s (best one being "Swords of 1000 Men"), who continued touring for 20 years until, having undergone a few personnel changes, they ran out of steam, ending with the century in 2000 AD.
After some wilderness years, Ed set off on a fifteen-year solo tour in 2003, playing anywhere and everywhere he could; pubs, clubs, music-halls, festivals. Mostly in the UK, but the tour did reach Dubai, Belgium, Germany, Brazil and, in 2017 he was invited by Remi Brodal to play in Norway at his festival 'Odalfest'.
When Remi asked whether Ed would mind if some local musicians joined him at the end of his set to play a couple of Tenpole Tudor songs….of course he wouldn't mind! But when Tenpole arrived at the festival, he was amazed to find a fully-rehearsed, seven-piece band, including female close-harmony singers, who had learnt 10 songs from the Tenpole Tudor back-catalogue! Ed only had time to play a couple of solo songs before the band came on and delivered the most terrific concert which no-one who was there will ever forget.
After the show, Ed and the musicians decided to form a group, so that they could do it all over again! And so 'The Tenpole Tudor Vikings' were born. The first plan was to record all the songs they were playing.
ETP: 'Having girl singers is something I had never considered, it was a Norwegian idea, and turns out to be a brilliant one. They make all the difference'
In 2018 Ed was constantly flying back and forth from London to Norway to add his vocals to the album which was recorded at guitar supremo Tony Rudseter's recording studio, in the heart of a remote and snow-covered Norwegian forest.
ETP: 'Most of the music on the album, apart from the singing, was done in my absence, so it was a revelation when I heard it; and…it's brilliant! I can't stop listening to it. The playing is superb, particularly Tony Rudseter's lead guitar'
This album, delivered by fate and magic, is called "3 Bells in a Row" and includes:
a) The first recording of "Who Killed Bambi" without a philharmonic Orchestra
b) The first recording of "He's Got a Moustache", a song famous in the UK from touring but never recorded
c) 3 Bells in a Row, which once made it to the top of the Skinhead chart, has a brass section now! You have to hear it!
d) Old songs re-recorded including "All My Heart" from the Pete Townshend sessions (When Pete Townshend once gave Ed some free time in his studio) featuring a fabulous solo from Norway's leading rocker, Petter Baarli of 'The Backstreet Girls'
e) Rita Kae, and Elin Kristiansen (of Eurovision fame) sing like you seldom get to hear, and will break your heart on 'Slow Dance', and on 'Rock & Roll Pilgrim' which is a reworking of a 17th-century hymn by John Bunyan "He who would valiant be"
"This is a proper album like The Stones, Beatles, the Kinks and The Who used to make" Dave Whitaker 2019