Solid Entertainments Present
100 CLUB TUESDAY BLUES:
FULLHOUSE play FRANKIE MILLER
+ Jamie Williams & The Roots Collective 
+ The Buzniks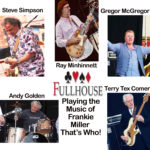 FULLHOUSE play FRANKIE MILLER
Led by Ray Minhinnett on guitar, a founding member of the original Fullhouse with Frankie, touring extensively with the great man and playing on all of his classic tracks such as 'Be Good To Yourself', 'Fool In Love', Jealous Guy', 'Ain't Got No Money' and many more. Ray is joined by Steve Simpson of guitar formerly of The Miller Band who featured on the smash single 'Darlin'. Terry 'Tex' Comer provides the essentially cool grooves on bass guitar, formally of the Miller Band, Ace, Sutherland Brothers & Quiver and Mickey Jupp also Andy Golden, played on Miller's Double Take album and formerly of The Pirates and Eric Bell's Thin Lizzy adds the perfect touch to a remarkable rhythm section. If you're now thinking what about the vocals; then rest assured Gregor MacGregor, a fellow Glaswegian, has got this covered in spades. Discovered by an old mate of Ray's who found him singing in a bar in Glasgow and had to send Ray a video. All agreed this is as close a vocal delivery as you are going to get to Frankie's.
The band are finishing off a brand new album due out in the early 2019 and includes 2 unreleased tracks with Frankie's vocals from previous studio takes.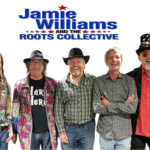 JAMIE WILLIAMS AND THE ROOTS COLLECTIVE
This the current line up is the best and they are on fire right now; bringing their own unique sound and style of fun, playing their style of Country blues, Rock & Americana. Wherever they are playing including Festivals, theatres pubs and venues such as the 100 Club their ethos is always to have fun and make the audience are as well. The band are signed to the 3Ms Music label and have released one album to date with them Diff'rent Gravy which has been getting rave reviews. They've shared line-ups with likes of Bellowhead, Wilko Johnson, The Pretty Things, Jefferson Starship, Eric Burdon, Carl Palmer, The Blues Band, Stray, David Knopfler, The Quireboys, Dr Feelgood & the Yardbirds and they've supported Eddi Reeder & the Animals to name but a few.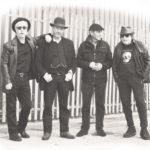 THE BUZNIKS
The Buzniks are a 4 piece rock combo formed in 2017 by Squeeze Bassman John Bentley.
During the 70's John founded the Fabulous Poodles, and did stints with Quintessence, Nashville Teens and Geno Washington. He also backed mime artist Lindsay Kemp in a stage show, and toured the UK supporting the Mott the Hoople, Wishbone Ash, and the Ramones. Then on one crazy day in 1979 he auditioned for Suzie Quatro and for Squeeze. The very next day he got offered both jobs.
" I decided to go with Squeeze, but I often wonder what might've happened if I'd driven off in a Quatro?"
Recently JB recorded the theme tune to the BBC2 series "From the Cradle" starring Peter Kay, and toured Japan with Squeeze. He also broadcasts a weekly radio show on Radio Scarborough.